I recently had the privilege of participating in not one but TWO fabulous podcasts intended to help busy professionals achieve more while working less. Let's go over some key points from each.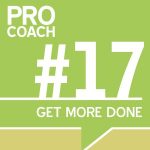 David Hooper of ProCoach Podcasts focused on how coaches and other helping professions can do more to support their clients without giving up their own precious time spent with family and friends. It is possible to help others while still helping yourself! Key tip: Structure your day with AWE.
Now, if you have been with me a while you know that AWE stands for Awareness, Work, and Evaluation. When you are aware of what your tasks need to be and what you actually spend time on, you can focus on those tasks which lead to your goal. Become aware of your "biological prime time" – that time of day when you are most focused and productive.  Then take action to complete those tasks and eliminate or delegate the others. Last, evaluate – did these tasks lead to success? Success as defined by YOU?
Listen to the ProCoach podcast here.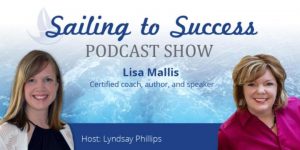 I also had a wonderful time with Lyndsay Phillips of Sailing to Success Podcast, when we talked about how to get more done. Our conversation led to this Key Tip: Take stock of what you have achieved and look at where your current path is taking you. Did you accomplish a great deal but none of the tasks supported your "Big Yes"? What can you do to change that – delegate? Break down tasks into smaller chunks? Learn to say no?
So many entrepreneurs, especially coaches, are women, and we often find it more challenging to say no. Here's another tip. Try this the next time someone asks you to drop a task that is important to you: Say "If you need an answer now, the answer is no." Remember, every time you say "yes" to one thing, you've effectively said "no" to something else.
Listen to the Sailing to Success podcast here.
A big thank you to both of these information powerhouses for the opportunity!
After listening to both of these podcasts, I'd love for you to come back here and comment on what you heard. What impacted your work the most?
These podcasts offer so many helpful productivity and capacity tips, but no matter how aware and effective you are, it may be time for some outside help to get to the next level of achievement. I invite you to reach out for help with any of these topics by taking advantage of my complimentary Discovery Conversation.
Important!! These appointments are complimentary, but to be really clear, they are limited in number and reserved for people who meet these criteria:
You are willing and ready to improve your current situation
You are ready to invest money in your potential so you can experience different results
You are willing to push your comfort zone (just a little to start!)
If this is you, click below to find your next steps.