Do you understand how precious time is? Do you want to make a difference? Is the true value for you of a profit is so you can pursue your vision? Then you may have a Bolder Business!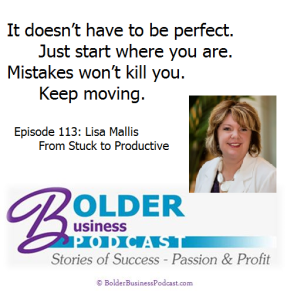 I recently spoke with Aprille Janes, business coach and the host of Bolder Business Podcasts, and we immediately found our common ground. Aprille feels, as I do, that by sharing our stories of our journeys and successes, we can encourage others to step out and create a business and a life of purpose.
One of the points we discussed is the importance of having a clear vision of what you want – and the value of re-evaluation. When you set a goal and start taking action, but then discover that your goal may not suit you after all, it's not only okay, but important to change your mind! Trial and error can lead to great success.
I encourage you to listen to the podcast (click the image above) for more practical and inspirational ideas to create YOUR Bolder Biz!
YOUR turn! What have you done to step out and be BOLD in your own business? Comment below and share!