You're setting up a family reunion. Or you're organizing an important meeting. Or you just want a fun "girls' night" with a group of friends.
You know how it goes…you send out an email asking for best dates. You get a reply from ten different people, with each one of the ten clicking "reply all" to respond. And how many times does that happen? Do the math…inbox overwhelmed!
I found a wonderful tool to avoid the dreaded "reply all" – Doodle.com. You send an invitation to respond (essentially a poll), and after everyone picks their best dates, you can see at a glance what's best for everyone! You can even have Doodle pop the event into your online calendar.
Imagine the possibilities – client conferences big social events, family gatherings, all settled with just a few clicks. I've successfully used Doodle for both business and personal events and it's one of my favorite tools. SO much easier and more efficient than email!
This is just one of many tools I use to manage my calendar and get more done in less time.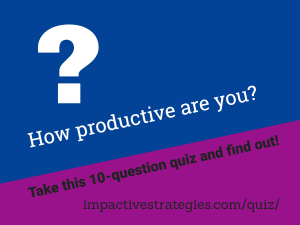 What about you? Are you curious about how productive you really are?
Find out now – take this quick, 10-question quiz!