Today I'd like to introduce my guest blogger, Alli March from the Scattered Squirrel.  Alli is a new friend of mine with a ton of resources.  As we explore the topic of overwhelm this month – I encourage you to check out the Scattered Squirrel for many valuable printables to help keep you organized.  You'll notice at the end of the post, Alli shared one of her printables with her.  You won't find this on her website – it's a special treat just for us!  (How AWESOME is that?!)
Enjoy Alli's story!
Don't forget – be sure to share the virtual love!  Visit Alli on Twitter and Facebook.
Hi there everyone, my name is Alli. I want to start off by thanking Lisa for having me, I'm honored to be here. As a wife, mom, aspiring entrepreneur, homemaker and blogger I usually have a fair amount on my plate.
Sometimes I feels as though I walk a fine line between being busy and productive, and being overwhelmed.
Often times it is not the number of items on my to do list but rather all those things that need thinking about.
The stresses and worries that come with having a family;
new ideas for my blog, business or a project around the house;
a skill I want or need to learn ….
I could go on and on but I'm sure you have a similar list yourself.
Most days my head can be a pretty busy place and I've learned to work with that as best as I can; most days I do just fine. But as with anything else, it doesn't take much to tip the scales over the line into overwhelm.
Let's face it, life happens! And usually at the most inopportune times.
Having a plan in place for just such a time can be a huge help in navigating your way through. Just like I've learned to work with the busyness in my head, I've also learned to anticipate and recognize what I call my scattered days. These are days when that scale is so far over on the overwhelmed side that it just isn't possible to follow normal routines.
My SOLUTION:  On those day I switch to what I call my Magic Three plan.
The Magic Three plan is really simple. Think about the different areas of your life and identify the top three or four. This is a totally personal decision, there is no right or wrong answers. For me it's Home, Family, Work, and Personal. Once you have those, think of the top three things you need to do on a daily basis to keep those areas moving.
I'll use my home section as an example, to keep our home running smoothly I need to:
1. do the dishes,
2. one load of laundry
3. general tidy every day
Then do the same thing for weekly jobs. Again, using my home as an example my weekly must do's are:
1. clean the bathrooms
2. change bedding
3. vacuum
It is so easy to fit in three jobs every day and three extra for each week. When you're making your own list, think survival mode. This is not a routine to live your life on for months on end, this just simply a system to help you free up time to focus on the area that is most overwhelming.
Here's why I think it works. Three is a fantastic number for times when you're feeling overwhelmed.
Three items are few enough to not feel daunting, and yet they are numerous enough that we feel like we actually accomplished something.
Something as simple as checking off three little items can bring back a feeling of control when life seems to be so crazy we don't know which way is up and which way is down.
The best part of this system, is that it is totally customizable.
Maybe the work area of life is crazy with deadlines, meetings, and/or projects; not to worry, pull out the list and only worry about the top three things in other areas of your life until work settles down. Say you get sick with flu, like our family did in February, I used the top three list for my home section so that I wasn't spending energy I didn't need to on housework that could wait until I was feeling better. However you choose to use it, is totally up to you.
Each and every one of us goes through days, weeks, sometimes longer periods, of feeling overwhelmed. You're not alone!
Even if making lists and priorities is not your thing, take some time to make a plan for yourself. Having something in place can help make transitioning through these times a little easier.
I hope my idea inspires you to find something that works for you!  For your complimentary copy of the Magic Three Printable, click here.
What helps you get through the overwhelming moments in your life?  Please post below!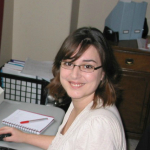 Hi there, I'm Alli; a wife, mother, aspiring entrepreneur, printable junkie, book lover, and blogger.    What started out as a way to keep family and friends up to date with our plans to move has turned into a place where I share ideas; especially ideas for organizing our homes and our lives.  Being slightly scatter-brained and a recovering clutterbug I know, first hand, what a struggle it can be to find harmony in the chaos.  When I'm not busy looking up and sharing ideas, you can usually find me on the computer working on some new idea for a printable to share on the blog. I believe they can be a really great way to find or create a planner that works for you, not against you; and they are a fantastic way to keep information organized.  It is my hope that by sharing ideas (and printables), I can help others find their own path to living a more organized life on their own terms.  
Main image courtesy of digitalart / FreeDigitalPhotos.net