We all want to use our time wisely to achieve the most we can in a day. The fabulous Laura Licursi, owner of Elite Virtual Assistants says that means not only doing the right things, but doing them at the right time. Although everyone is different, she stresses that there are "best times" to accomplish certain tasks during the day. We need to schedule high-profile tasks for times when we naturally have clearer focus and sharper thinking.
Laura says that no matter what time you start your work day, the first three hours are always the most productive – and that's why this is the ideal time to work on tasks requiring the most thought and the most energy. She adds, "Schedule a mid-morning break to get up, stretch and grab a high protein snack to help power you through until lunch."
You may be effective in the time after lunch, but mid-afternoon is universally the most unproductive time of day, and the ideal time for "brainless" tasks like filing, cleaning, and sorting through junk mail.
Everyone has their own way of doing things, but in the end most of us want the same thing…to get the most out of our time. With today's more flexible work schedule, many people aren't working the traditional 9-5 day. For those that do, the points below are some reminders to help you stay on track and productive.
Here's Laura's list:
Exercise in the morning. It's not always easy, but it will wake your body up and help you focus to get the most out of those crucial 3 hours.
Schedule your demanding tasks for your first 3 hours, with a break half way through.
Get out for lunch. Whether it's lunch with colleagues or taking a brisk walk, getting out of the office to clear your mind, even for 30 minutes will help bring you back refreshed. And don't overeat…this will leave you tired and full.
Schedule the 3pm slump time to handle tasks that don't require too much thought or concentration. You will still be able to get something accomplished without having to put too much effort in.
Leave the office at a decent time. We all have deadlines and commitments, but staying late night after night will only leave you drained.
Try to get 7-8 hours of sleep each night, which is the recommended amount for most adults. Your body needs time to rest and recharge in order to get up and do it all again.
It's important to regularly review not only what you do, but when you do it. This will help you not only achieve more and increase capacity, but also keep your mind and body happy!
For more on Laura and Elite Virtual Assistants, visit her website here.
Curious to know more about how to have a life that has more money, more fun, more time for volunteering, more time for relaxation – while working less and feeling less stress?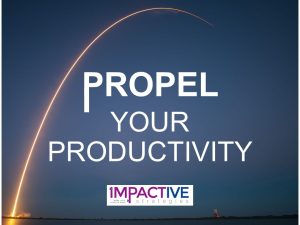 If so, I invite you to apply for a complimentary Productivity Breakthrough session. Here we'll talk about your current life – and the life you want – and we'll discuss some strategies to help you see your next steps.
Discover what's blocking you from creating consistently productive and stress-free days.
Determine what steps you can take so you can stop working nights and weekends (and early mornings!!!) trying to catch up.
Identify the one simple step you can take to immediately get into action today.