Lisa Stands Out as a Speaker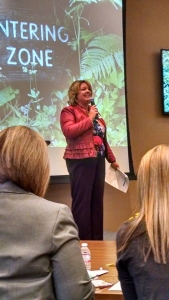 Out of the thousands of speakers to choose from, there is only one with the experience, insight, and personality of Lisa Crilley Mallis. Leading the way for business owners to create balance and design lives of their dreams, her vision and message speak to all who are ready to move to the next level.  (Want to listen in on a recent interview?  Visit our Media Room!)
Lisa is available for speaking engagements and workshops for a variety of group formats, from intimate meetings to national training events and anything in between. Through her dynamic presentations, Lisa draws on her personal experiences and excellence to share with audiences those essential elements that comprise her life.
"Professional Women's Connection West of Westlake, Ohio, had the unique pleasure and privilege of hosting Lisa Crilley Mallis at their Quarterly Business Workshop. Everyone not only participated, they really were kept on their toes by Lisa with her dynamic presentation and engaging manner — everyone left with an important take away for their business…thank you, Lisa!"  – Jan Litterst, EMPOWER Excellence

"I was totally entertained and inspired. Your tips, tricks, and especially your one-liners will stick with me. Thank you!" – Helen, Orange Village, OH

"This workshop was excellent. I wish it was longer." – Sandra, Akron, OH

"Lisa has a way of engaging everyone in the room by putting her finger on exactly what each persons pain point is & shows them how to move forward with purpose while having fun! Her passion resonates with her audience and her out of the box strategies make every one's eyes widen and brows rise in an Aha moment!" – Traci McBride – Chief Wardrobe Stylist, TeeMcBee Image Consulting

"I feel better equipped to be even more balanced and efficient." – Lauren, Moreland Hills, OH
Group workshops are a great way to learn new skills.
At every event, Lisa draws upon her experience to explain capacity building strategies in a non-threatening and easy to implement manner. Join Lisa at an event near you!
"Lisa is an engaging speaker who brings sound advice on helping you run your day rather than letting your day run you. She does this by bringing strategies on how to manage your workload and schedule by teaching you to apply these strategies in ways that make sense for you. I highly recommend Lisa to anyone who wants to get serious about taking control." – Cara Lange, Branch Manager at Century Federal Credit Union
"Akron Area PRSA is typically very focused on programs that directly relate to the field of public relations, so hosting a luncheon on the topic of time management was a bit of a gamble for us. But Lisa did not disappoint! Everyone walked away with actionable ways to better manage their time and priorities – and every one of the evaluations we received on the event was incredibly positive. We're even considering adding more general topics to our schedule, not just strictly PR-focused, since this was so well received."  Tracy Burt, Director of Marketing
At every event, Lisa ensures an exciting and non-threatening learning environment. Participants walk away with life long skills, easy to implement strategies, and a new awareness.
To inquire about Lisa speaking at your next event, please submit a request via email at [email protected] or call Lisa at (440) 537 – 3811.