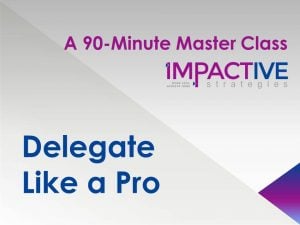 You are focused all day long, yet you question if you are any closer to accomplishing your goals.
You feel so overworked, frustrated, and confused – running a business shouldn't be this hard!
You KNOW you are spending your time doing work that someone else could probably do – yet when do you find the time to figure out a better way?
When you try to do EVERYTHING, something suffers.  Maybe it's your health, your family relationships, your clients, or your "me" time . . .
This Masterclass will teach you:
Delegation resources you can use today, tomorrow, and for the life of your business.
Two simple questions to ask yourself before you begin any task. How will you know if it's really worth your time?
My paint-by-numbers system to delegate effectively. No more frustration!
Insight into your delegating style (and why it matters!)
Personalized solutions so you can hit the ground running.
Learn to Delegate…Like a Pro!
Product Type: Video and action guide
$47.00
You are committed to success AND you have a lot on your plate.
The more you have to do, the more you get done.
Sometimes you just don't have room in your calendar to finish EVERYTHING, which puts you a little bit behind in achieving your goals.
Imagine if you had the space each day to work on the tasks that were most important.  Wouldn't it be great to have some wiggle room in your calendar?
You can! By asking yourself these 4 simple questions and completing this simple exercise, you are guaranteed to have more time to accomplish the goals that are most important to you.
Take Control of Your Calendar, now!
Product Type: Audio and action guide
$7.00

Do you have limited time, yet want to unlock your ability to do more? Want to figure out how to build your capacity with strategies that will actually HELP you, and not frustrate you? Do you desire a work and home space that nourishes and supports you?
It does NOT take mad science to manage your time and organize your space! In fact, all you need is a shift in perspective and this assessment! It is your key to unlock power and freedom over time and space.
People who endeavor to live in flow are naturally more productive, connected and satisfied. The TSSI™ will help you to figure out your unique flow formula.
Product Type: Assessment
$37.00
Click Here to Purchase